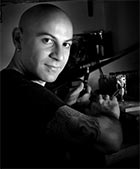 Born in Athens in 1980, Thodoris Christogiannis developed at an early age a fondness for jewelry.
Thus, he enrolled at the School of Jewelry Art and Design, from which he successfully graduated in 1999. There he acquired the necessary skills for jewelry making and began to experiment with metals and a range of other materials.

Between 2000 and 2005 he worked as a craftsman for a number of jewelry manufacturing studios, where he acquired working experience. In 2006, having developed a particular technique and aesthetics, he set up his own studio.


The themes and heroes of his designs are inspired by his personal life, with an emphasis on emotion and detail. His jewelry is animated: mechanisms, motion, color, engraved words and names are their main features. Sad and lonely princes who seek the key to happiness, little girls yearning for love, Little Red Riding Hood flirting with the Big Bad Wolf are some of his motifs.
All pieces are crafted by hand, using materials as varied as silver, semiprecious stones, enamel, Plexiglas, liquid glass and titanium.

Beginning in 2006, he has participated in numerous commercial exhibitions held at various galleries and fairs; his jewelry pieces are sold and showcased in select stores in Greece and abroad.